Find the right people at the right moment
We help tech companies from North America, Europe, and the Middle East build software teams in Poland.
30,000 candidates in our database
Average time to fill an open position: 3-4 weeks
99% retention rate
We work with great companies like these
Why IT Companies Choose Us
Expertise in the Local IT Market
We have a deep understanding of Polish local trends and nuances related to budgets, types of employee engagements, and benefits, which is essential for candidates
Reliable IT Recruitment services
Our placed candidate's retention rate is 99%
Cost-Effective Solution
Our expertise in the Polish IT market connects you with top talent at cost-effective rates, while streamlining your hiring process to save time and money.
Speed
We begin working on your project immediately. Our average closing time is between 3-4 weeks
Transparent Communication
We maintain open and transparent communication, keeping you informed and involved throughout the recruitment process
Access to a Vast Talent Pool
Our extensive database of over 30,000 IT professionals provides a diverse and rich source of top-tier candidates, ensuring you have access to the best talent available in Poland
Exclusive IT Community
Our agency has cultivated a community of senior IT professionals in Poland, giving us access to highly sought-after candidates
Comprehensive Guide For Tech Companies:
How to Hire Top IT Talent in Poland Without Cost Implications
Even If You Have No Hiring Experience in the Polish Job Market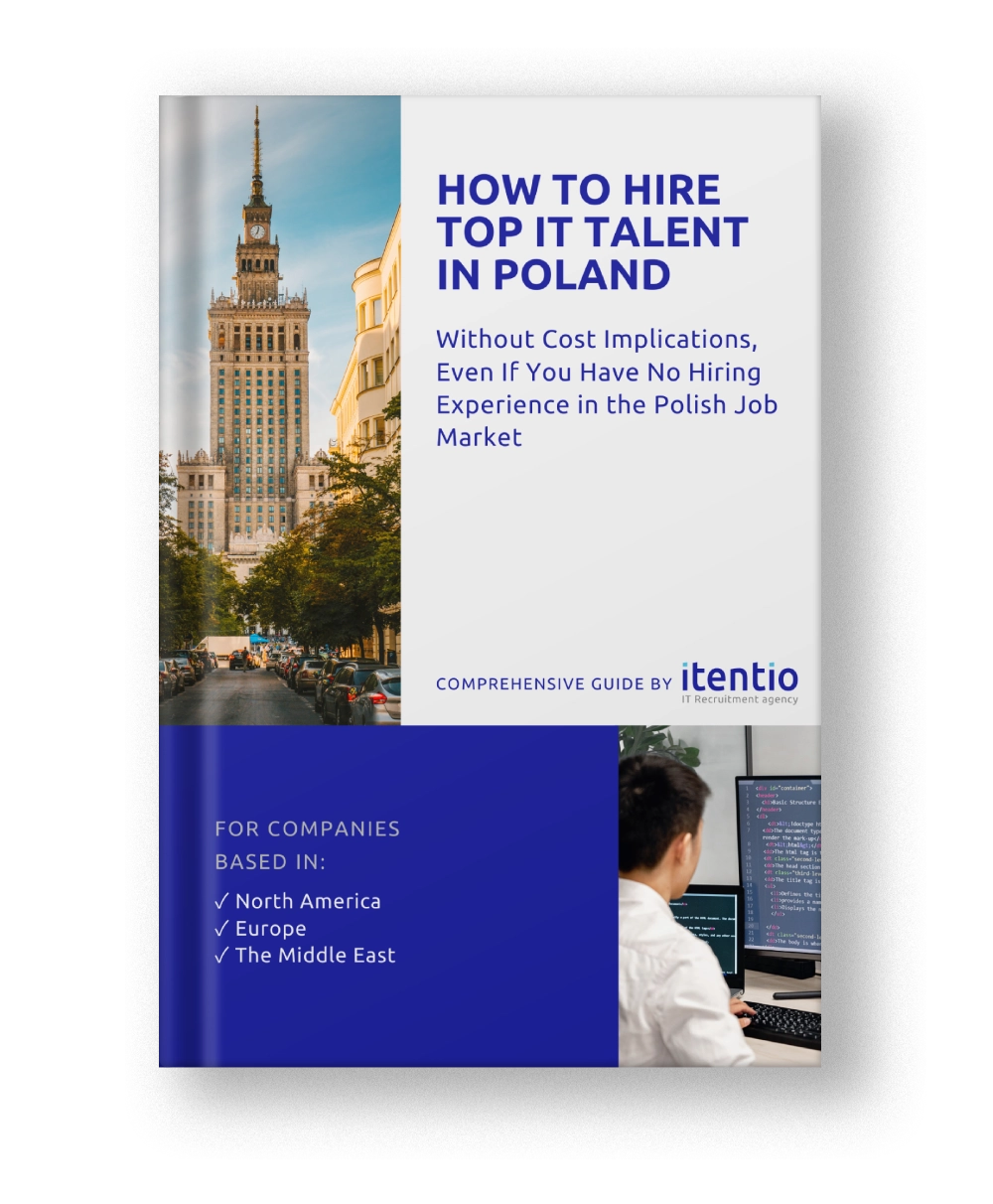 We find top IT talent in Poland efficiently
Count on us for swift, cost-effective IT recruitment in Poland. Our expertise in the Polish IT market, industry insights, knowledge of nuances, extensive database of top candidates and candidates' high retention rate sets us apart from other IT recruitment agencies.
Our Process
Our method ensures a customized, seamless IT recruitment experience, aligning with your needs.
Defining your needs
We'll have a brief call to review your needs, candidate skills, and collaboration terms. It will help us tailor an IT recruitment solution for you.
Search of candidates
We use our network and expertise to find top talent aligned with your criteria and goals.
Selection
We help with interview scheduling, candidate expectations, and, if necessary, contract negotiations to ensure a smooth experience for all.
Offer and Onboarding
After finding a strong candidate, we assist with offers and stay connected, aiding with onboarding for a seamless transition.
Start and satisfaction check
Before the candidate starts, we help with final preparations, oversee the handover, and ensure ongoing satisfaction and engagement post-placement.
Ready to find the perfect IT talent for your company?
Contact us today to learn how Itentio can help you build a topperforming software team.

Fill out the form below to schedule a free consultation and discover the benefits of working with Itentio. Don't wait, take the first step towards building your dream software team today!
Scroll to top