Meetup in Krakow
IT Recruitment in Poland: Market trends and succesful strategies for 2024
When: October 24, 2023
Where: Yolk Workspace & Community, Józefa Sarego 5
Entry: free with prior registration.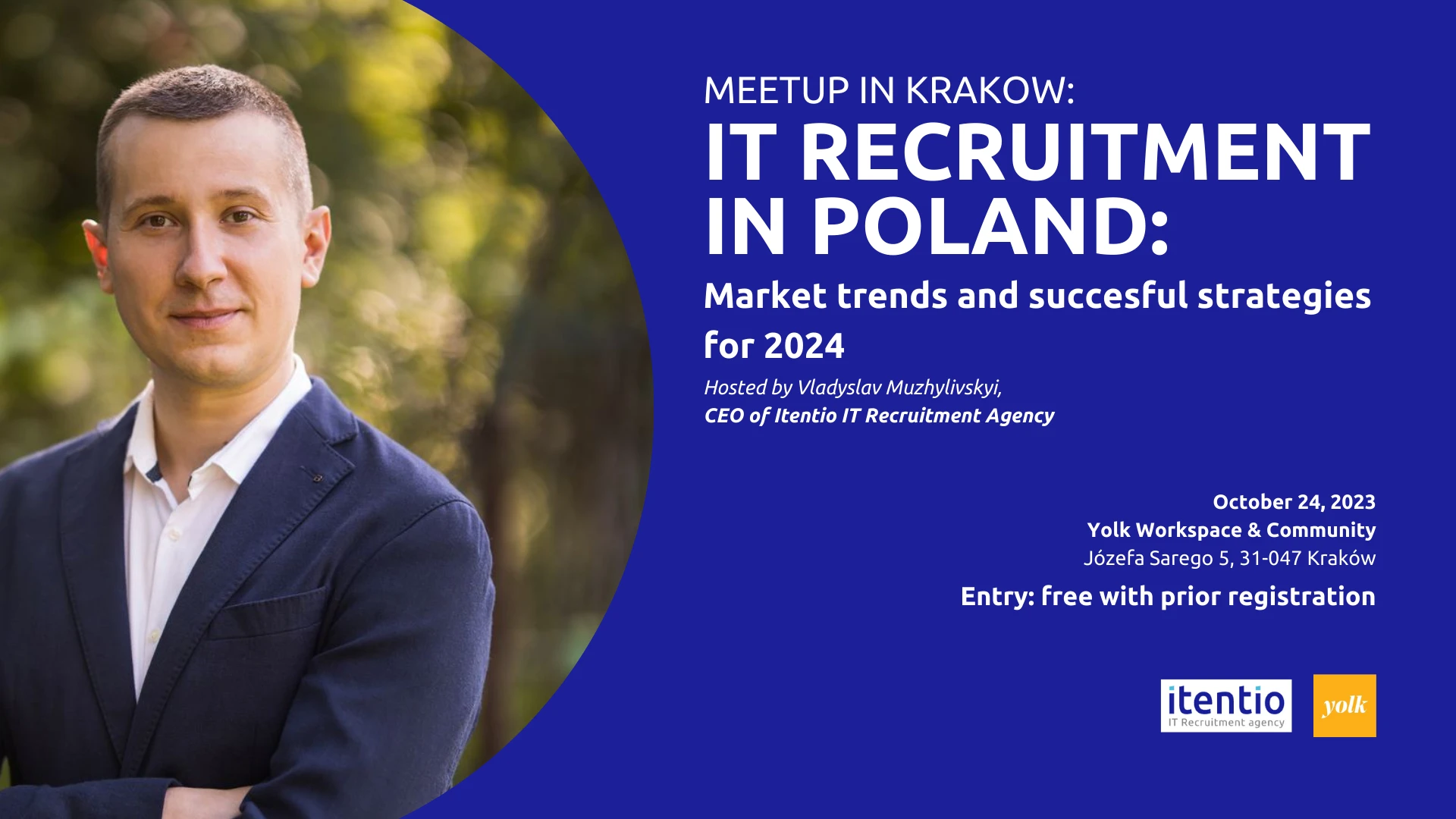 Details
Dive deep into the Polish IT recruitment landscape at our exclusive event. As industries evolve and the need for IT specialists is growing, understanding the nuanced shifts and significant changes in recruitment is paramount. This event is tailored to unveil the most comprehensive insights and forward-looking strategies for 2024.
Event Highlights:
Current State Analysis: Kickstart with a panoramic view of Poland's present-day IT recruitment scene. Navigate the challenges and demands of the Polish IT market and the reasons behind its soaring popularity as an IT destination.
2023's Recap and Projections for 2024: Examine the pivotal 2023 trends, from remote work dynamics and the rise of hybrid models to the intricacies of securing salaries in foreign currencies. Then, gear up for a forecast of what 2024 holds.
Recruitment Strategies for Attracting Talent in Poland: Unlock tried and tested methods for effective IT recruitment in Poland. Harness various available approaches, ensuring you're equipped with the most successful tactics for IT recruitment in Poland.
Recruitment Process Optimization Tips: Learn how to streamline your recruitment process from application to onboarding. Grasp the nuances of the Polish recruitment timeline, optimizing for both speed and candidate experience.
Alluring Benefits for Top IT Talent in Poland: Deep dive into the types of contracts in Poland that can affect the attractiveness of your job openings. Explore the perks and benefits that resonate most with IT professionals in Poland, giving you an edge in attracting top-tier talent.
Take advantage of this chance to gain a competitive edge in IT recruitment. Join industry leaders, seasoned HR professionals and recruiters as we unravel the blueprint for success in 2024. Your journey to mastering IT recruitment in Poland begins here.
Yolk Workspace & Community, Józefa Sarego 5
Prior registration is required. Book Your Seat Now!